St. Pierre Dory
LOA: 27'1″ | Beam: 8'9″ | Draft: 12″
There are few power boats I have ever seen as pretty as this St. Pierre dory, Patience, and her sister (see video below) Beatrice. The St. Pierre dory is available in an incredible variety of configurations, from basic workboats to semi-planing cabin boats to traditional sailboats. I'm definitely more of a sailor, but someday I hope to be able to say I'm the proud owner of one of these. Beautiful, seaworthy, comfortable … what's not to love?
Buy Plans
http://www.nexusmarine.com/st_pierre.html
Another builder, Baja Mike, describes the boats relative speed and comfort on the Wooden Boat Forum:
I have just finished building my 27′ St Pierre Dory "Melanie" (built from Nexus Marine plans) and have done first sea trials. She has a 60hp Yamaha power stroke in a stern-through transom-well. I have read very negative stories of dory design performance and was expecting the worst. Wasn't to be. In a moderate Pacific chop in 20 knt winds off of Ensenada (Baja California) she performed beautifully. In flat water we got her up to 17.5 knts, but cruised most comfortably at 12-14. Before adding 300 lbs of balast to bow she would pound slightly straight into the wind. With the added ballast and speeds of 12-14 knts, no pounding at all. Almost no roll at all in side-seas. On anchor in the lea of an island, with 15 knt wind she held straight and steady with none of the swaying and discomfort I read about regarding dory design. We will see later how she performs in more adverse conditions.
http://forum.woodenboat.com/archive/index.php/t-152603.html
And a look at Baja Mike's St. Pierre. I like the open center console layout: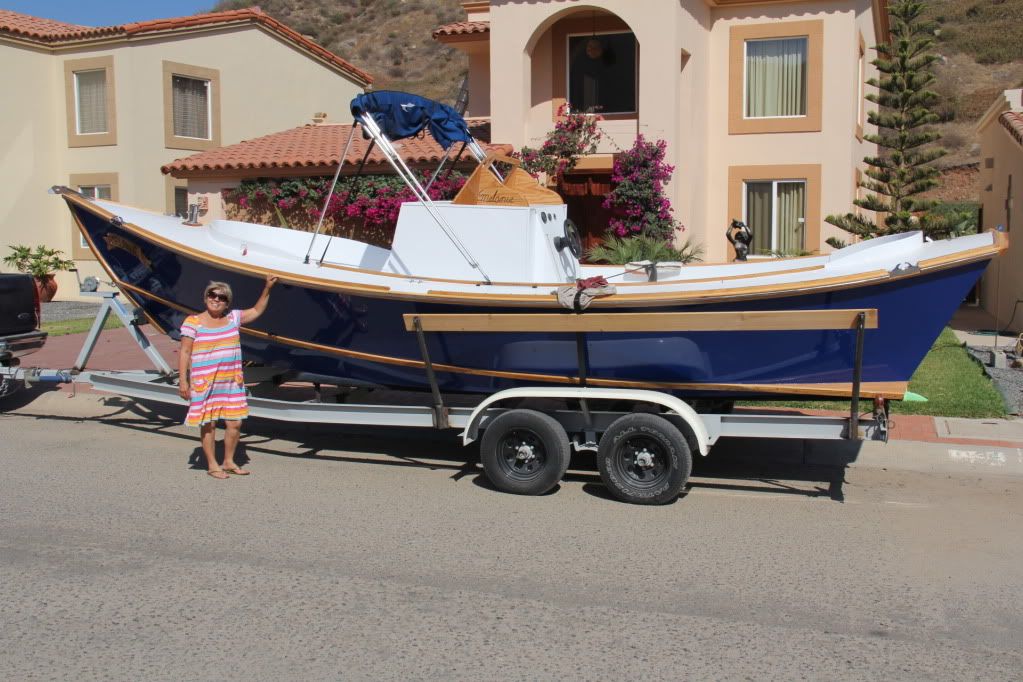 The video below isn't the greatest quality, but it's nice to get a real look around Beatrice.